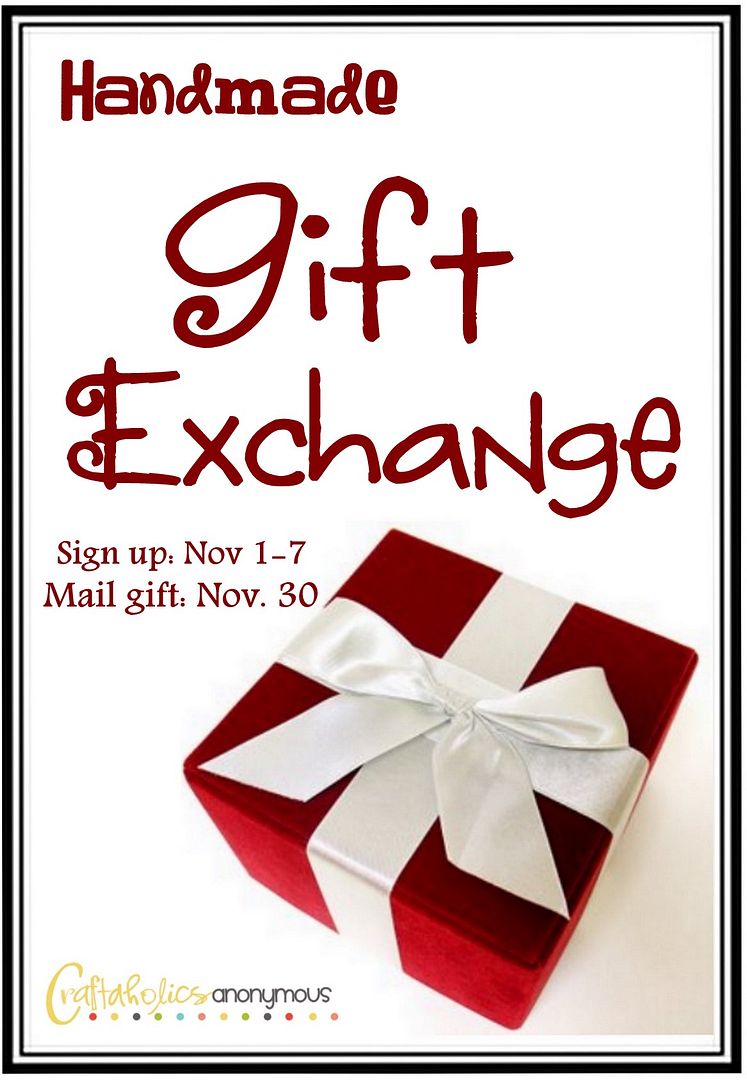 This was the first time I joined the
Holiday Gift Exchange
hosted by Linda from
Craftaholics Anonymous.
Not familiar with the exchange? A quick run down – This is Linda's 5th year of hosting the Holiday Gift Exchange and it's a gathering of people from all over the world. They submit to be apart of the exchange to her, and then she takes the dedication & time to match two people together to do a gift exchange. You then have about a month to introduce yourself to your "gift pal" and come up with an idea to create for them. Then you send it off and wait with excitement and anticipation for your very own unique personally made gift for you to arrive! It's not exclusive to bloggers, anyone is welcome so keep it in mind for next year!
I was paired up with a wonderfully sweet woman named Jacy and she actually has her own creative business too,
Embellished Living
. We exchanged a couple of emails back & forth with introductions and a little bit about our families and décor style to help one another come up with an idea of what to create for one another. Between her great details of what she liked décor wise and her boards on Pinterest I knew exactly what I wanted to make for her.
But FIRST! I'm giddy to show off what she made JUST FOR ME! You can tell she really listened to what I described about myself, I loveeeee the wreaths she makes in her shop and she knew my color scheme was greys & yellow. She made this ADORABLE wreath and I just
loveeeeee
the little hint of yellow in it!
Then as if that wasn't adorable and perfect enough she added an additional gift… a personalized ornament! AND it's a blue bulb which is
perfect
as that's my accent color for decorating this year. So thoughtful.
"
"
PEEK A BOO in all those pictures – haven't mastered the art of trip-pod and "Christmas ornament picture taking"
I'm absolutely in love with my gifts & thanking Jacy from the bottom of my heart! Very thoughtful and wonderfully made personally by her!
She was similar with her décor style as I am with the love of grey and yellow and said she wanted something for her master bedroom. Also pretty much
loved
anything to do with
love
. So I searched hi and low for a perfect quote to make a sign for her to display in her bedroom. This is what I made up just for her.
Let me know if you joined the Holiday Gift Exchanged this year too and leave a link to your post about your gifts, I'd love to see what you gave and received.
I am linking this post up with the official "link up party" for the Holiday Gift Exchange to be sure to check out what everything is giving and receiving this holiday season.
Also be sure to check out
Embellished Living's Etsy shop
and see all her other beautiful creations!