Who doesn't have a mile long To Do list for their home? Well I have a few projects that are almost within reach that aren't that difficult, but I never seem to be able to tackle them because of nerves. I wanted to do a round up of my Top 5 projects that should be do-able but just need to take that leap!
Build a Back Patio
(
source
)
When we moved into our home there's this small slab of concrete out back that substitutes as the "back patio". I immediately had plans of expanding the space and either building a patio over it, or try something unique I've seen before. The picture above isn't a wood patio, but rather an effect called "concrete stamping". Certain contractors are capable of creating the wood grain effect, and ever since I saw this I have been dying to have this! While the actual stamping wouldn't be DIY'd there's a lot of contributions you can make to the contractor to help cut costs. This is one of the most costly projects I have on my to do's.
Install Crown Molding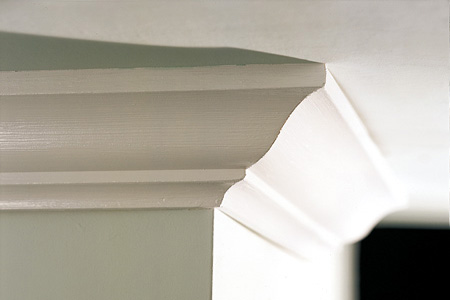 (
source
)
We have crown molding on the first level of our home, but none upstairs and I've always wanted to continue the look upstairs into our bedrooms, and hallway. The project has always seemed to be overwhelming and I've been nervous to try and attempt it. Want to know what the first step I am most nervous about? Getting the molding home! I can't even picture how to haul those super long pieces home without causing any damage. When the first step is scary to me – it's gonna take some real motivation to help me tackle this project.
When the time is right I'll be looking to these girls for their helpful hints: Sarah of
Thrifty Decor Chick
, and Kelly from
View Along the Way
.
Install Backsplash in the Kitchen
(
source
)
This is one that's almost silly to be scared of. It's one of the easiest transformations to your kitchen, and even novice DIYers can tackle it. Some reason… I am scared. We actually will be tackling this project soon, we have the tile picked out and everything. Now just have to DO IT. The idea of measuring everything perfectly, using a wet saw to cut the tiles, making sure everything is aligned straight. It's all nerve wrecking to me, the perfectionist. Beckie of
Infarrantly Creative
has one of my favorite tutorials for installing backsplash too.
Installing a Ceiling Fan
(
source
)
This is another "easy" DIY project, but I'd almost learn from watching first. The idea of following instructions that don't match up 100% to my electric layouts terrify me. We have a fan downstairs, and in our master bedroom and I love them more than I ever thought I would. I constantly have them on. I want to install one in our upcoming nursery, even though I actually want a gorgeous chandelier in her room too, but it's really nice to have a ceiling fan in a nursery for multiple reasons. It's been found to reduce the risk of SIDS and also helps create white noise. This really is one that I just need to "get over and try" some day!
Build an Outdoor Fire Pit
(
source
)
Another project that I'm "scared" about but really shouldn't be. This is such an easy project, but again… it's the first step that scares me. I am nervous about the drawing plans to get the measurements right in order to head out and pick up those bricks. There's also a few safety precautions you have to be sure to take too. This is definitely a weekend afternoon project that would have a great personal payoff that wouldn't cost a lost.
Are any of these on your To Do list? Let's help motivate one another and start crossing these To Do's off our list!